Ready, set, go for the main workshop at Netcomm FORUM 2018
The exhibition will begin tomorrow and Ranking Road will be present in full force to assert his position as Europe's leading G-Local Digital Partner : "we think globally and act locally".
Everything is ready for the Main Workshop on May 30:
Antonio Borri ( Director Ranking Road Italy) and Ralf Zmölnig (Director Ranking Road Germany) will speak about the Amazon Export Strategy from 3.30 pm to 4.00 pm. This will be a great chance to discover the most important Marketplace in Europe and to implement your digital export strategy actively.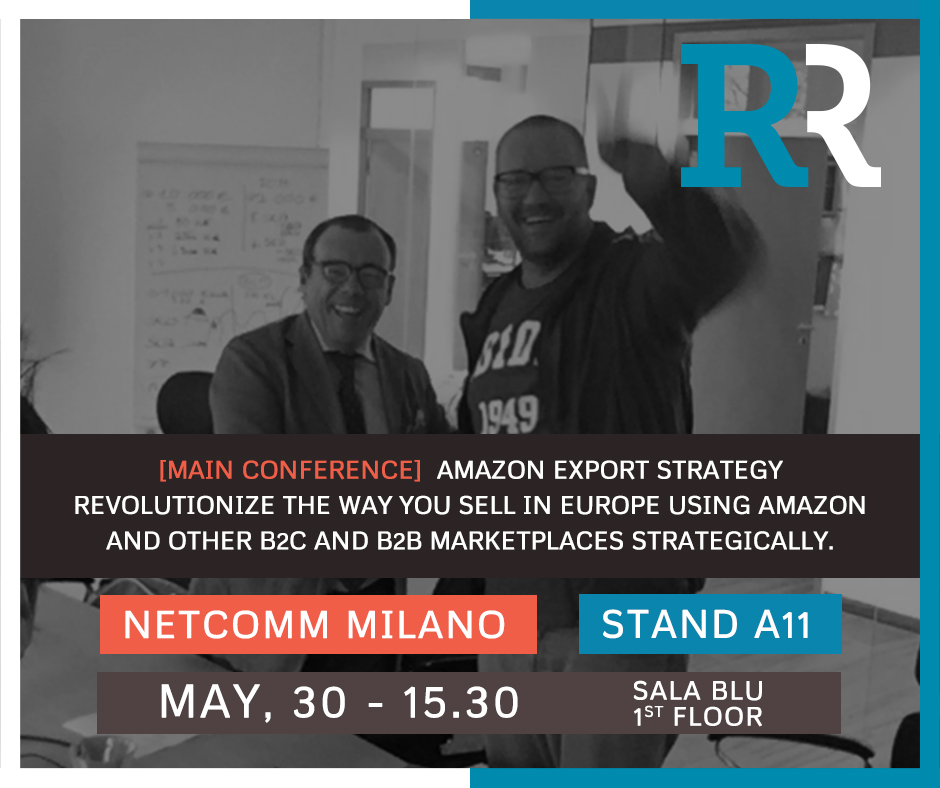 "Amazon is the number one marketplace in Europe and it is playing a crucial role for those who sell online. With 300 million users worldwide it is a real giant, which now represent the single biggest opportunity for digital for export. In fact, by applying a localized analysis and marketing strategy to Amazon, sales volumes can be increased exponentially. Antonio Borri will introduce the fundamental elements to face Amazon in Italy and in Europe, and Ralf Zmölnig will talk about his experience in Amazon.de, which with  25 ml users, represents the biggest European market. Finally, will be shown some cases of Italian companies, which have put in place an international strategy (in Italy, Germany, France, Spain, Great Britain and US ), to provide the elements to start a digital export business immediately. With this workshop you can finally give a European dimension to your sales activities on Amazon, gaining visibility and authority on one of the most important market place."
This is only an abstract of what you'll listen to, so don't miss the chance to participate to this Amazing Workshop on 30th May at 3.30 pm in the Blue Room 1st Floor of the MiCo Milan.
See you there!
Come and meet us at booth A11
Don't miss the chance to meet the experts who make Ranking Road the first G-Local Digital Partner in Europe, a great opportunity to talk about your international visibility with international experts committed to the performances of their market.